Dr Stefan Gurmann - Executive MBL-HSG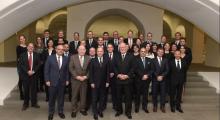 Dr Stefan Gurmann - Executive MBL-HSG
Thursday, 10 December, 2015
We are pleased to announce that Dr Stefan Gurmann, lawyer and partner at Kerres | Partners, successfully completed the Executive Master of European and International Business Law program at the renowned University of St. Gallen.
The University of St. Gallen is regularly ranked very highly by the Financial Times. The 18-month program of the Executive MBL-HSG is based on the model of a flying class room and a global faculty with reputable international experts from Europe, the United States, Japan and China. At world-wide recognised universities e.g. in St. Gallen (HSG), New York (NYU), Shanghai (Fudan) or Tokyo (Waseda) topics as International Taxation, Mergers & Acquisitions, Finance or Antitrust & Competition Law which are discussed from a multicultural and interdicplinary point of view.
The globalization of the economy requests cross-border knowledge in European and international business law. The experts´ presence in leading global economic centers of Europe, America and Asia provide the candidates with the necessary global perspective and make the Executive MBL-HSG one of the leading international postgraduate programs in business law.
For more than 25 years Kerres | Partners represents its clients' interests in all matters of commercial law and - as one of Austria´s leading law firms - links excellent legal knowledge with profound economic understanding. The postgraduate program of the University of St. Gallen reflects the activity of Kerres | Partners as renowned law firm in its international and cross-border operations and global approach.
Furthermore, the MBL-HSG degree highlights Dr Stefan Gurmann´s specialization and his work in the areas of corporate and commercial law, mergers & acquisitions, litigation with a focus on commercial and international disputes, insolvency law and project finance for his global clients.